8 Ways to Fill the Body Wrap Appointment Schedule
(And Why You Should)
Set-N-Me-Free Aloe & Herb Body Wrap will fill your appointment schedule and provide consistent income every month.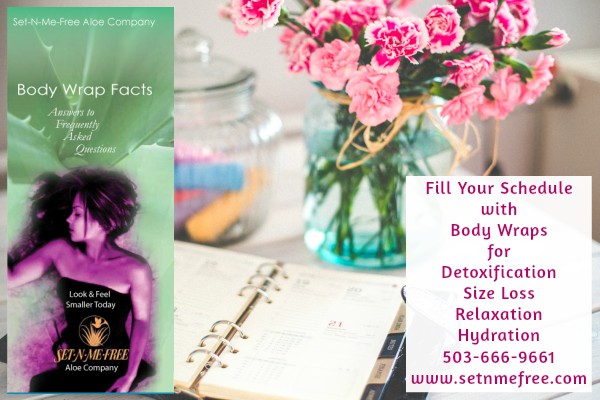 Make sure everyone in the salon gets a Body Wrap Fact Brochure before they leave. This simple act will explain the service and refer clients and their friends back to you for services. Make sure your contact information is on the back of each brochure. 
Frame an 8x10 Body Wrap Poster in your treatment room, at the reception desk, and in the salon restroom. This is the "low key" way to introduce this service to clients.
Play the Training DVD in your reception area (most salons will choose to play without sound) for a powerful visual introduction while clients wait for services. Be ready to explain the service to clients who ask.
Talk about the Aloe & Herb Body Wrap with Every Client. Project the excitement of skin toning and size loss. Your clients will book their first treatment based on your excitement.
Trade Services with another technician in the spa to get them talking about your services too. When the technician sees the results and experiences the relaxation.. they will share the info with their clients, thereby expanding your reach.
Trade brochures with local business to boost exposure:

Fitness studios/trainers: Clients at these businesses often see the most success with a series of body wrap treatments because they are already committed to the diet and exercise regimens that are recommended. The body will tone skin, boost hydration, and provide size loss that will give them a boost toward their end goals.

Bridal Salons/Coordinators: Brides and bridal parties can be a lucrative part of your body wrap business. Not only will they schedule "get into the dress" treatments..but they will schedule series of body wraps to ensure they look their best. They are also famous for booking hair and makeup with someone they trust.

Travel Agents: Getting ready for vacation? What better opportunity to make sure we look and feel our best. A series of slimming body wraps should start at least 8 weeks prior to departure date for optimal results. Book a treatment 2 times per week and use Aloe Body Wash in the shower daily.
Note: You could even offer a referral bonus back to the local business for sharing your information.
7. Ask your local grocery store or boutique to add your brochure to every sale when bagging. This exposure will ensure that the brochure gets home where it can be read during down time. Even if the initial receiver doesn't schedule.. a family member or friend might.
8. Schedule a body wrap demonstration. Allow potential clients to watch a body wrap demonstration and explanation during a "spa party" or open house. This is powerful marketing.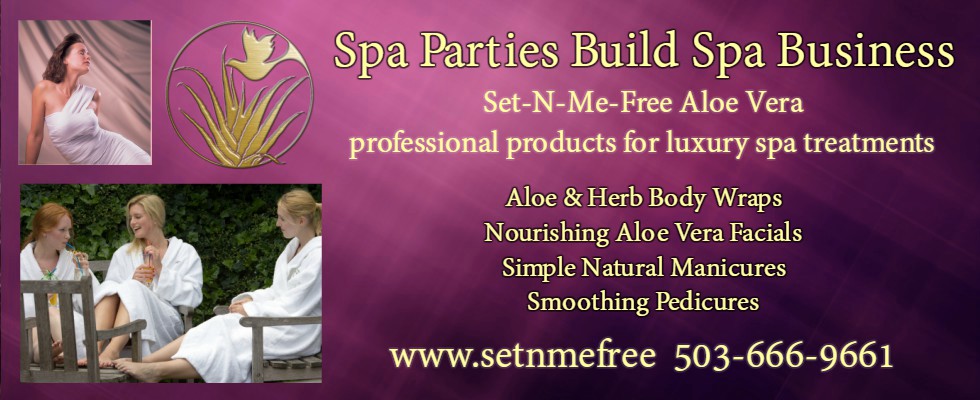 The Body Wrap Dollars ADD UP?
On average, body wraps bring in $95.00 per treatment. Cost per treatment for body wrap solution is about $7.00.
 When a client books a single series of 12 body wraps they ensure income of $1,140.00 over the course of the series that lasts 6 weeks.
If you have 3 clients book a series every 6 weeks income from service alone will add up.
Each client will take 3 hours of treatment time per week.. for a total of 9 hours of treatment time total and an income of $3,420.00.
Equals to $63.33 per hour!
1 Body Wrap Technician can perform
3 Body Wrap Treatments in 2 Hours Time.
Body wraps are unique in their scheduling because they work best in a series of 12 treatments. Treatments are scheduled every 3-5 days unlike facials, or massage that are usually scheduled twice per month and hair services that are even less frequent.