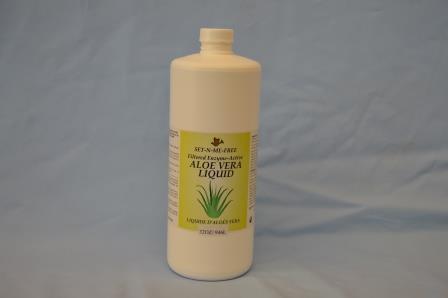 Natural Aloe Vera Liquid
As close to nature as you can get.
Mature Aloe Vera (aloe barbadensis) leaves are harvested from organic fields in Southern California.
NON-GMO – No Water Added – Cruelty Free – Grown, Processed, and Bottled in USA
Description :
Leaves are filleted and the inner leaf gel is pulverized and filtered to a liquid consistency. This product is cold-processed to preserve the full enzyme activity found in mature aloe vera leaves. The filleting and filtering process produces a final product that contains less than 4/10 of 1% parts per million of aloin (also known as: anthroquinone, or aloe latex).
This liquid is filtered to produce a pure liquid aloe vera that is suitable for skin care and pet care. No thickeners, or colorants have been added. No chemical processes have been used to remove the natural smell, or color of the product.
Available in Quarts and Gallons.
Ingredients: Aloe Barbadensis, and to preserve freshness less than 1% total citric acid, benzoic acid, potassium sorbate. Less than 4/10 of 1% parts per million of aloin.
---