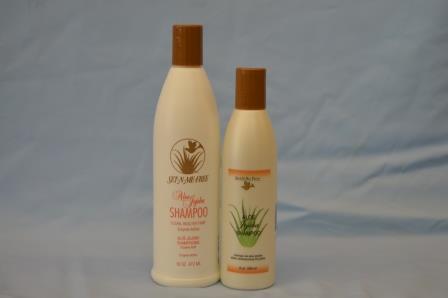 Aloe Jojoba Shampoo
This clarifying shampoo will deep clean scalp and hair strands to get a truly clean finish. It removes styling product buildup and chlorine without stripping vital moisture. The exfoliating formula is excellent for those with dry scalp, eczema, and other scalp problems. This simple formula rinses away easily to prevent irritation and itch from soap residue.
Description :
First ingredient is USA Best Enzyme Active Aloe Vera Liquid. Active enzymes naturally present in aloe vera proved the penetrating power that moisturizes and strengthens each hair strand.
Second and third ingredients are gentle coconut cleansers. These cleanser lift and exfoliate dirt and oils from hair and scalp, deep cleaning for skin and hair health.
What is missing? No water which means product is concentrated. No silicones, animal fats or glycerin that coats the skin and clogs pores.
Instructions: Wet hair & scalp. Apply small amount of cleanser and massage into a lather. Rinse well with water.
Available in 8 oz and 16 oz
---