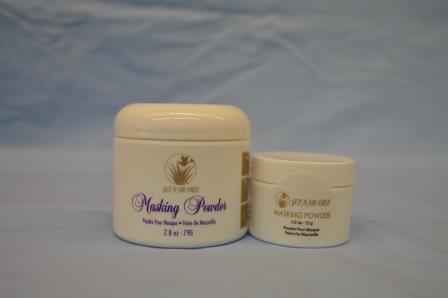 Masking Powder
This mask can be used on all skin types. Ingredients are food grade and comfortable to use even on sensitive skin!
Description :
Masking powder is to be mixed with Aloe Misting & Masking Liquid to a thin graving consistency, then applied with a fan brush to the skin. Within 6-7 minutes the mask will dry.
Moisten masked area with Aloe Misting & Masking Liquid, massage it lightly to loosen the mask, then wipe clean with a towel.
There will be a great difference in the skin appearance and texture after removing the mask.
Active Ingredients: Egg Albumen, Corn Starch, Honey, Herbs, Witch Hazel, Borage, Stone Root, Elder Berry and Blueberry
Set-N-Me-Free has combined high quality egg albumen protein and natural botanicals that will exfoliate and deep clean pores. Enzyme active aloe vera and honey provide humectants that will leave skin looking fresh, moisturized and toned.
---