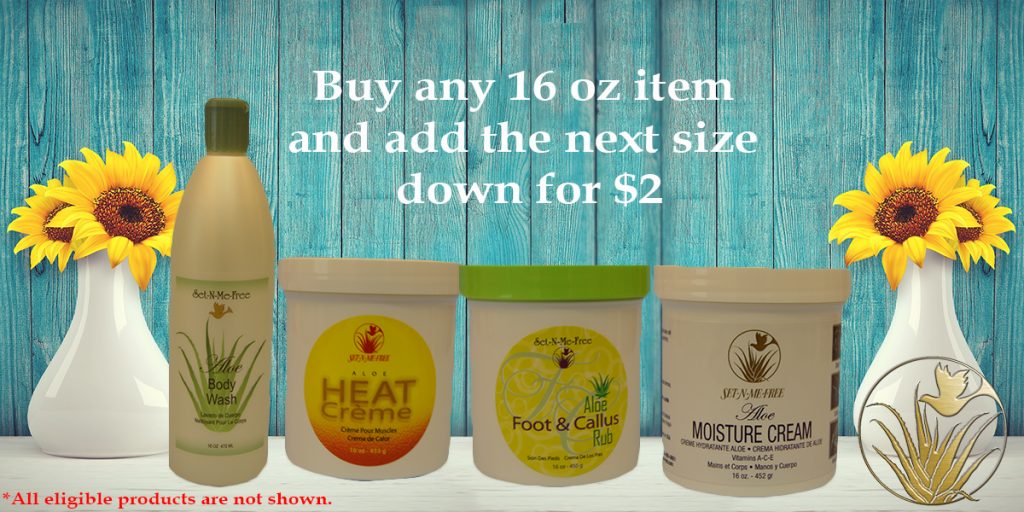 July Specials - All Month Long
The products included in this months sale are:
– Aloe Body Wash: Each use will eliminate residues left by soaps, sunscreens, and regular environmental exposure. Safe and effective for all skin types, and all ages.
– Aloe Comfrey Gel: The soothing combination of aloe vera, comfrey, and essential oils of clove, eucalyptus, and peppermint make this a must have for every first aid kit. Perfect for cuts, scrapes, burns, bug bites, and sunburns.
– Aloe Heat Creme: Wintergreen oil will soothe while the healing oils in the formulation combine with the aloe to offer more lasting benefits.
– Aloe Lavender Bath & Shower Gel: The enzymes present in this aloe vera cleanser reach deep into pores lifting away dirt, excess sebum, makeup and dead skin.
– Aloe Moisture Cream: This high vitamin finishing cream will help to improve skin strength and flexibility.
– Aloe Jojoba Shampoo: The aloe and jojoba penetrate the scalp and hair shaft for removing hair product buildup and deep cleaning the follicles of thinning hair.
– Body Wrap Solution Gel: This aloe vera and herb gel will absorb into skin and encourage toxins to exit the body through the natural waste removal system, while hydrating the skin to soften and moisturize skin.
– Foot & Callus Rub: A rich emollient cream that couples the high nutrient values of jojoba and unrefined castor oils with enzyme active aloe vera to nourish and correct dryness.
– Moisturizing Aloe Lotion: Soothes the itch of dry skin and over-exposure to environmental elements.