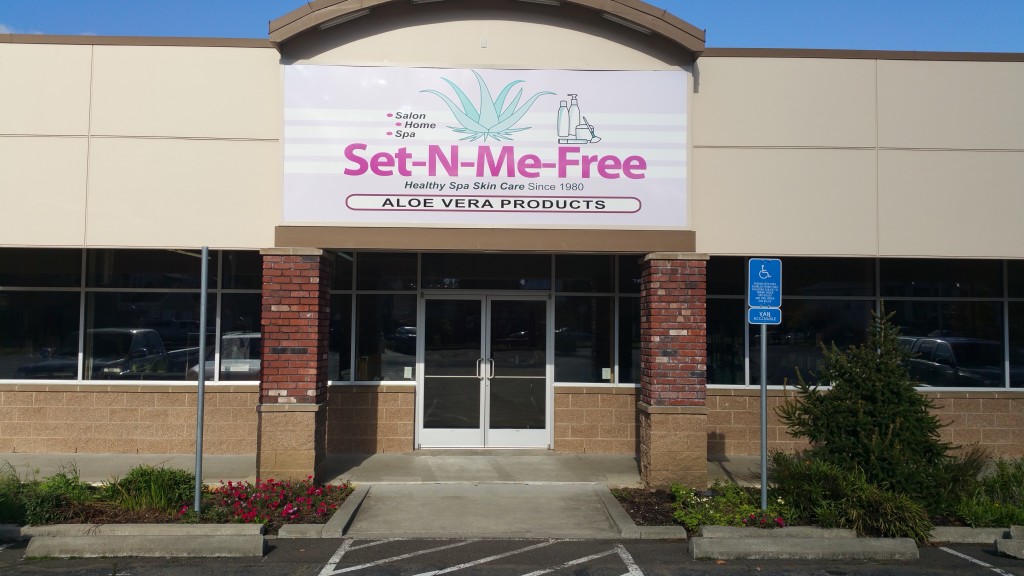 Set-N-Me-Free Aloe Vera Company established a small salon in 1980 to provide healthy aloe vera products and services to the residents of Portland, Oregon. By 1985, we began full manufacturing of the complete line of aloe vera products. Now, we manufacture, educate and distribute these healthy products worldwide.
Set-N-Me-Free contracts directly with organic and wild crafting farmers of Aloe Barbadensis plants in Southern California to ensure visbility and stability of raw aloe vera gel. Mature aloe vera leaves are chosen and harvested to supply the abundant enzymes that naturally occur in the inner leaf gel. All of the Set-N-Me-Free aloe vera is grown, processed and bottled in the USA. Located in Oregon, the company ships product worldwide to businesses and individuals. Products are made in small batches to maintain the quality and integrity of the natural formulas.
Set-N-Me-Free offers a variety of professional products for salon and spa services that can be customized to meet the needs of clients. Many specialized treatments are offered in a series that will give salon clients a pampering experience week after week.
– Our most well-known product is the Original Aloe & Herb Body Wrap System. This product is available with several methods of application to match any salon or clinic setting including mobile operations that are becoming more popular. Home use products are recommended to support salon treatments and product the best, lasting results.
– The Nutrient Delivery Facial System offers salon professionals a food grade product for chemically-sensitive clients. The system is designed with simplicity and versatility in mind. Technicians with basic facial training can use this product line for basic facials in the salon setting. As they advance in their ingredient and technical knowledge they can use the mask to create custom facials providing signature treatments and custom skin care for each client. Creative recipes are available with each purchase to help the salon technician offer more variety to their clients. Salon products and daily care home-use products are all available in professional and retail sizes.
– Set-N-Me-Free also offers a full range of Therapeutic Gels, Creams, and Lotions that are popular with salons, spas, nail technicians, retail boutiques, medical clinics and natural pharmacies.
Set-N-Me-Free Aloe Vera Company also offers:
– Raw, enzyme-active, organic or wild-crafted aloe vera barbadensis in liquid or gel formats for manufacturing custom formulas.
– Custom branding of established formulas.
– Custom or semi-custom formulation services.
Set-N-Me-Free managers, Jan Heinrich and Elena Flemate, are available weekdays to answer questions and suggest products to fit your needs. Staff are trained to assist with menu planning, customizing treatments and placing order. All product is shipped from our manufacturing facility in Oregon.
Tel: +503-666-9661
Office Hours: Monday thru Friday 8 am – 4 pm Pacific Time Zone USA