For those Beauty Industry Professionals who are interested in introducing the Set-N-Me-Free Aloe Vera Body Wraps into their Salons and Spas we offer different methods of training that are easy to learn with tips and tricks that will help you create the most relaxing experience with for your client.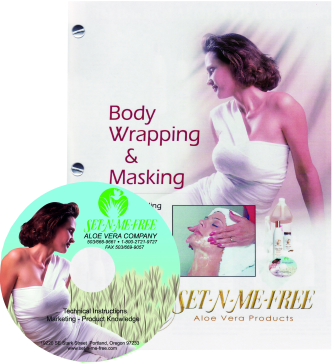 Our foremost method of training is the Training Manual and DVD. Both of these combined have trained many technicians throughout the years, we have received great feedback from our customers. The manual goes over each product in detail, including our full range of Aloe Vera Products. The manual is then divided into our Skin Delivery System, it contains our base masking formula as well as added recipes to customize the formula for each client. The end of the manual is dedicated for the Set-N-Me-Free Aloe & Herb Body Wrap, it goes over everything you need to know about the product and some added promotional options to best boost your body wrap experience.
30-Minute University Class
Our second method of training is through our 30-Minute University Classes. These are scheduled around your schedule and can range from a variety of topics:
Professional Product Application
Hosting a Spa Party
Boosting Retail Sales
Designing the Treatment Menu
Keeping Records and Documentation
Maximize Client Time & Money
Building a Professional Referral Network
Advertising Wisely (Getting the Word Out)
Realizing the Value of Every Customer
If you find that a certain topic that your interested is not mentioned above, please let us know and we will do our best to answer all your questions.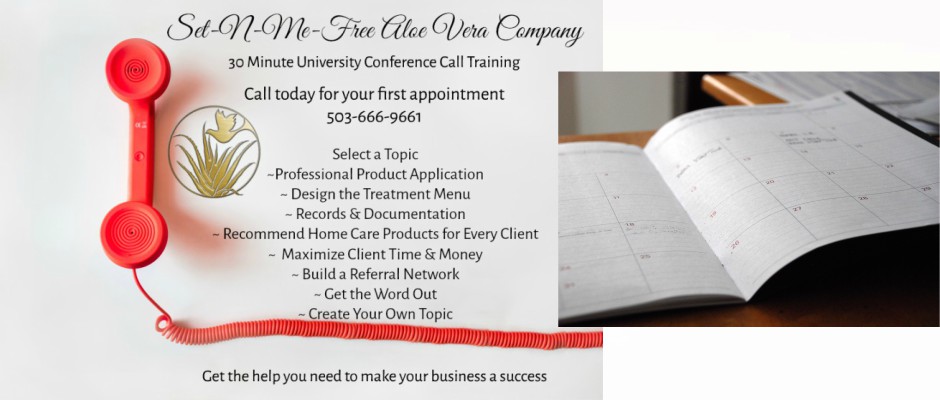 Our third method of training we offer are In-Class Training in Portland, Oregon. If you are interested in coming in for a class let us know and we can schedule a time that works for both our educators and yourself. At this time we focus on product application on both our Skin Care Delivery System and the Set-N-Me-Free Aloe Vera Body Wraps.
Bonita Springs School in Florida offers our products as a service to learn in their classes. Give them a call to see their schedule.
Bonita Springs School
Bonita Springs, Florida
Tel +239-495-0714