You have made a smart investment in the healthy aloe and herb body wrap system from Set-N-Me-Free Aloe Vera Company as another way to help your business succeed. Here are a few suggestions that will make you successful and contribute to your continued success.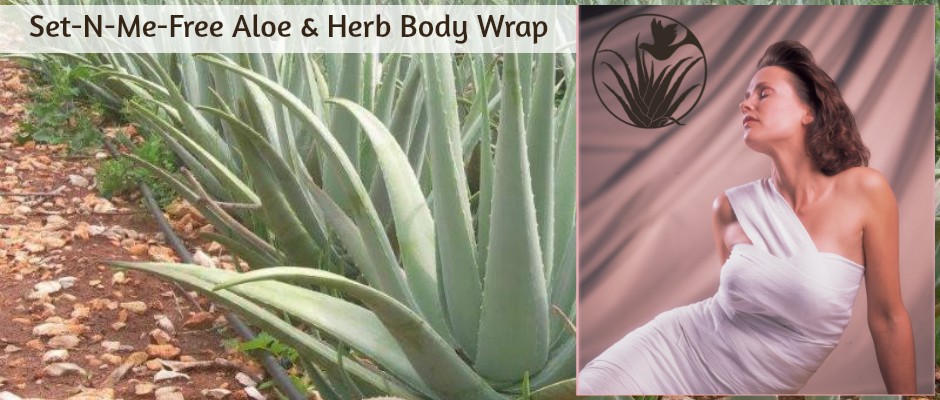 With your starter package, you have the "Body Wrap Facts" Brochures. This is the most valuable promotional tool that will bring new clients to your salon and convince your clients to try this new body wrap treatment. I hope you are handing them out generously. Salon personnel should make sure that every client leaving the salon has a brochure in hand. If a client does not want a body wrap perhaps their mom or sister will be interested to learn more about having a body wrap. This color brochure is the least expensive advertising available. The brochures are available in packs of 50 and have a space on the back for your business name and telephone number.
A few "Body Wrap Facts" can be left at bridal stores, travel agencies, hospitals and other places where many people work. With your salon name on the back of the brochure, new clients will call directly to your salon. Some salons encourage the bridal salon owner to put their name on the brochure as the referring business, and when 4 new clients (with the bridal salon marked brochure) come for body wraps, the salon will give a certificate for a free body wrap to the bridal salon. The bridal salon owner will give the certificate to the bride when she buys a gown at her business.
A Body Wrap Party is a favorite way to increase business. Party attendees will watch a demonstration of a full body wrap and have one wrap cloth applied to an arm or a leg to experience the feel. This "no-obligation" after-hours party will result in a multitude of appointments. Questions will be answered and usually a discount is given to anyone scheduling an appointment for later within the week.
Offering the client a series of body wrap treatments is a great business builder. Skin tissue toning, skin softness and the other wrap benefits will be noticed after only one treatment, but when the client has repeat scheduled 4 or 5 days apart, benefits multiply and business increases with a multitude of referrals for new clients having body wrap treatments.
If a client comes to the salon once or twice each week, they obviously will refer more people than if they only had one treatment.
Personal referrals are the Number One source of new clients. Some salons will offer a free bottle of Aloe Body Wash if the client will bring a friend to be wrapped at the same appointment time.
Series pricing should only be offered for a series of 7 or more treatments. Any series less than 7 full-body wraps will not result in enough benefit for the client to return for another series. If a client has cellulite, it will take 4 or 5 full body wrap treatments to soften that hardened fat before clients are pleased with long-lasting benefits.
Salons use the "Telephone Presentation" to explain the body wrap to clients. Everyone in the salon using the same explanation will promote the treatment in a unified manner. Many salons will laminate the page or tape the page to the front desk so it is always convenient to read to the client. We know that when the salon person uses the script of the Telephone Presentation, a large percent of the inquiries are scheduled to do body wrap treatments. When no script is available, the inquiring person does not get all their questions answered and no appointment is made.
We print "Body Wrap Helpful Hints" on the back side of the Telephone Presentation. Putting the two pages together is excellent information for salons to train their employees.
Wrapping methods and techniques are important, but promotions are the most important for continued success. A technician can perform the wrapping perfectly, but if promotional talk about the treatment is not followed through continuously to every salon client, there will not be many clients and the clients that do have treatments may not schedule a series of treatments. We suggest that the body wrap technician give information to every client as if they were training the client to do the service. If the client understands why they are being wrapped in a certain way, they are more apt to purchase a series of treatments and much more likely to explain to their friends what the body wrap treatment is all about.
Spa Parties Build Businesses
Many salons find spa parties to be a fun and easy alternative to expensive advertising.
These fun spa parties promote the salon and dill your appointment books. They also increase home-care product sales.
Spa party results are favorable, with home-care sales averaging between $400-$800– as well as the additional in-salon services you book. Salon technicians are excited to have the increased and find it easy to work with clients gained at parties. The party results are so successful that some salons schedule spa parties every week.
Many salon clients who want to know more about your services will attend a non-committal spa party to learn about them. In courage them to bring along a friend, perhaps their mother or daughter.
One technician can coordinate a party of six or seven, but more attendees will require a helper. It is beneficial to share the party with another salon technician. A massage therapist, a manicurist or a facialist could each promote their specialty services at the party. Have each salon technician personally invite eight or nine clients.
The linen body wrap or a spa service can be done on one attendee while the others watch, as questions and "ooh" and "ah" at the results. While the client is lounging in the body wrap, others will have masking done on one hand, a skin polish done on one arm, a foot and callus treatment on one foot, a facial contour wrap or an underarm toning wrap. Each attendee will have one demonstration treatment done while other watch.
The party room is set up with samples of product for everyone to try. The purpose of the spa party is for clients to experience product and treatments. You can determine the success of the party by the amount of home-care product sold and treatment services scheduled.
Skincare makes for an easy spa party, and healthy products reveal a visual difference in the look and feel of one's skin after only one application. An inch-loss bod wrap is easy to apply and be able to show the measurable difference of before and after the spa demonstration treatment.
How to Sell a Series of Body Wrap Treatments to Every Client
Clients love the way their skin feels after a body wrap treatment, of course, the like the size loss from the fatty areas. Offer every client a savings for a series of wraps, explain the benefits, and an average of 73% of your clients will take advantage of series of wraps.
We always suggest that the single wrap price be the same are your clients would pay for a short cut hair treatment. Charging $75 for a single price wrap is a very good price.
As we discuss in our video, you should always sell a series of 7 or 12, explaining that with a series of 12 treatments spaced 3 to 5 days apart, it is not uncommon for a client to lose 2 Full Clothes Sizes. To achieve optimal results, it is necessary for the client to use Aloe Body Wash daily to keep the pores cleaned out. This will allow maximum penetration of the Body Wrap Solution and increase effectiveness up to 40%. We recommend drinking one gallon of water for each of the next 3 days after every wrap treatment. This will help to flush the toxins from the body. To keep inches off, the client must adjust eating habits to match their desired size they wish to achieve.
When selling a series to a client say to your client, "Today's wrap may go towards a series!"
Single Wrap at $75.00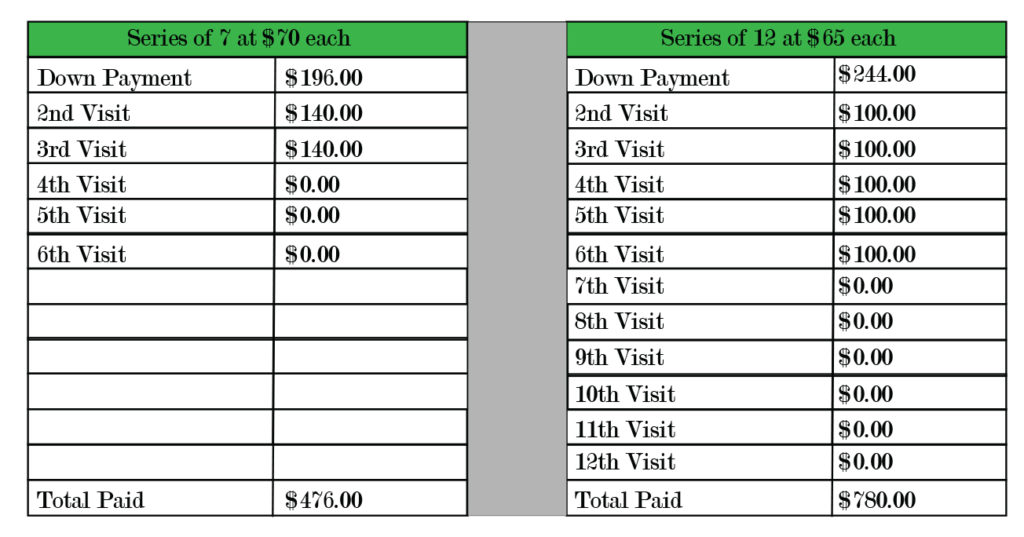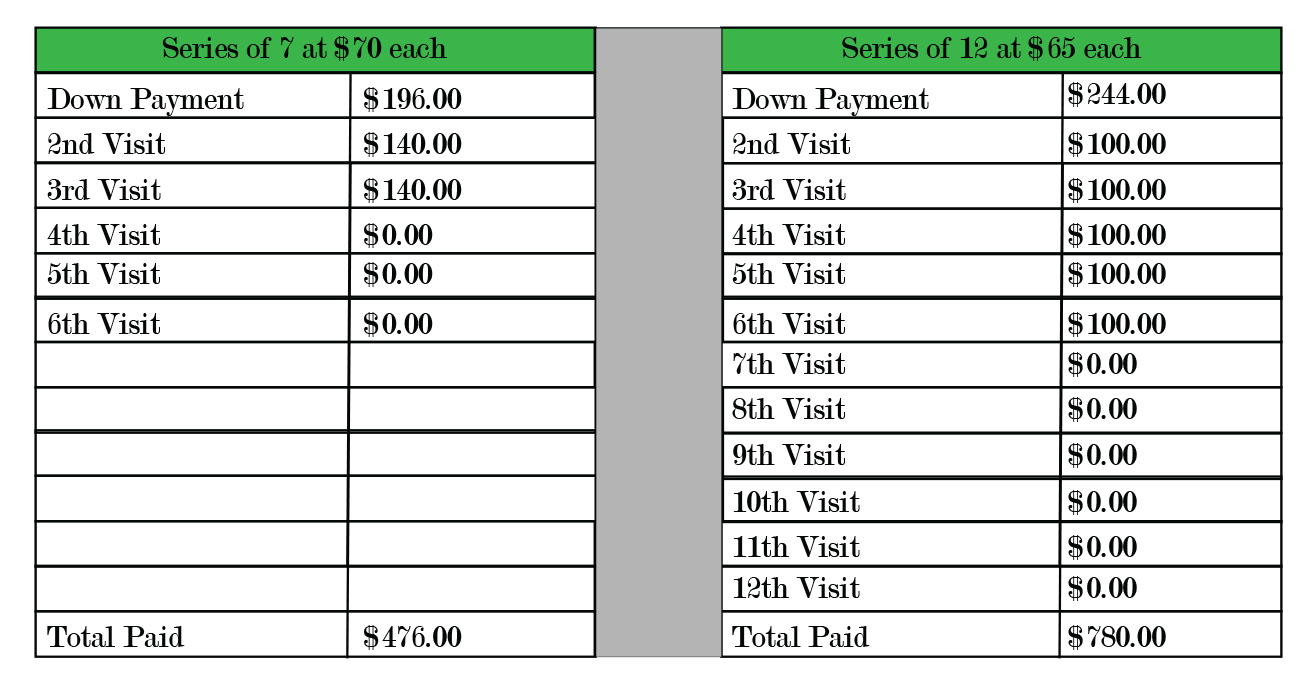 Explain the series and benefits to every client after they are dressed from their first wraps (not before). They will have experienced the relaxation, soft skin, pampering, toning and size loss, all of which will help them decide to buy the series.
Please complete the certification test at your convenience and return to us at Set-N-Me-Free. We will send you a certificate, suitable for training.
Professional Body Wrap Packages Include:
– Instruction Manual with DVD: This education set presents the mummy style wrap application in English and Spanish. Certification testing is available.
– Aloe & Herb Body Wrap Treatment Products: Organic Raw Aloe Vera is blended with USA grown herbs to create a strong herbal tea solution that absorbs into the body quickly. The synergistic blend of ingredients will detoxify the fat cells resulting in size loss, provide aromatherapy for relaxation and stress relief, hydrate and tone skin for all over body perfection.
– Aloe Body Wash: This enzyme active aloe vera wash is blended with simple coconut soaps. No silicone or animal fats that coat the skin and clog the pores. When clients use Aloe Body Wash in the shower daily they see up to 40% better results with their body wrap treatments. Clients who use the Aloe Body Wash will always come back for more.
– Aloe Heat Creme: Soothing and warming cream to increase circulation and reduce inflammation. Daily use on cellulite tissue will assist the body wrap in moving toxins out of the body faster.
– Cotton Wrapping Cloths: Choose cotton mummy style cloths or cotton cocoon towels for professional treatment. These are wash and reuse item that will last 3-5 years with daily use. 
– Wrap Cloth Roller: This simple non-electric machine will allow you to re-roll the mummy style wraps with ease.
– Vinyl Warming Suit: Warming suits are available in 1 piece waist free zip up the front style (one size fits most) or 2 piece pant and jacket style (L,XL,XXL). Suits are sprayed with disinfectant after use and allow to dry.
– Measuring Tape and Measuring Pad: Record customer inch loss correctly with the right tools.
– Thermal gloves: Use only for twisting excess wrap solution from heated wrap cloths before application. These gloves will protect hands from heat up to 200 degrees Fahrenheit.
– Wrapping Gloves: When you are applying linens they are hot. These light gloves will protect your hands from the concentrated heat in a rolled cloth. As you unroll onto the body they will cool sufficiently.
– Wrap Facts Brochures: Everyone who comes into the salon should take home a brochure to share with family and friends. Space on the back for Salon Contact will bring clients and fill the appointment schedule. Posters are also available.
– Client Intake Cards: Client health is of the utmost importance with all salon/spa services. This form allows you to maintain records of purchases, health, and result in 1 convenient location.