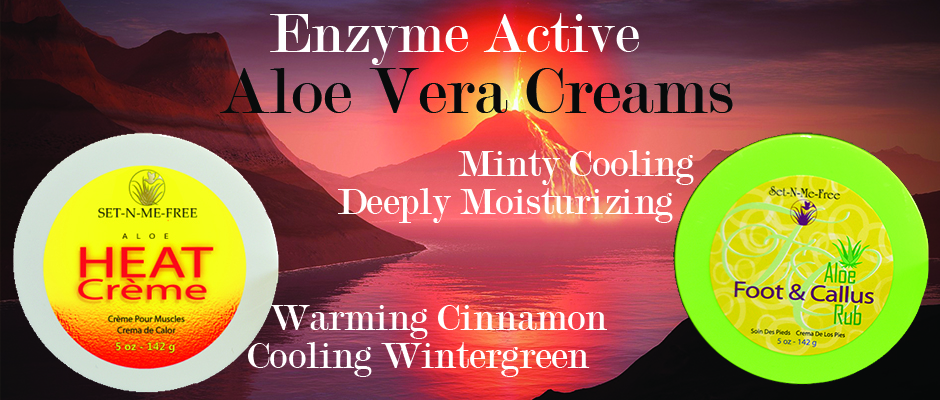 Aloe Heat Creme
This massage cream is rich with enzyme-active aloe, wintergreen and cinnamon oils to provide temporary warming and relaxing effects where it is applied.
A favorite among massage therapists, Aloe Heat Creme is a non-staining formula complimented by a pleasant cinnamon smell. You will find this creme being used at athletic events, team practices, fitness gyms, physical therapy offices, and chiropractic clinics.
Beauty spas use this cream after body masking treatments to thighs, buttocks and legs. It is a favorite product for at-home followup for cellulite treatments.
Foot and hand technicians apply the Aloe Heat Creme prior to paraffin dip treatments. Clients like the warm relaxing feeling that it leaves on their hands and fingers.
It feels best when applied sparingly and often.
Available in 5 oz jars
Shop Now

Aloe Foot & Callus Rub
60% Aloe Vera with Vitamins A and E, plus menthol gives a cool and tingly feel to moisturizing feet. For softening calluses and corns rub this soothing cream into the feet; with the foot rub you will feel the entire body relax. Rub into feet at bedtime for all night moisturizing. 
Rub this cream into the feet at the beginning of the day and at the end of the day.
Spas use this cream after pedicures and after foot masking treatments. The client is left with cool tingly feet that look moisturized and fresh.
Available in 5 oz jars
Shop Now
Aloe Skin Therapy Moisturizing:
Honey Butter & Mango Butter
Sweetly satisfying, these pleasant, refreshing moisturizers are perfect for intensive all-day skin hydration. Exercise indulgence with fun and fruity Skin Therapy moisturizing.

Aloe Honey Butter Skin Therapy
Aloe & Honey Skin Therapy Butter is light and smooth. It works well on face, neck and body for your best all-day or all-night moisturizing. Absorbs quickly for a clean finish.
Perfect for intensive all-day skin hydration
Available in 5 oz
Shop Now

Aloe Mango Butter Skin Therapy
The "super fruit" of Mango mixed into a Butter will move over arms, legs, and feet. Perfect for all over the body for your fruitiest selection of the day. No more dry flakiness when this creme is rubbed into your skin Try this on the roughest "working" hands.
Available in 5 oz
Shop Now

Aloe Moisture Cream
Renew the look and feel of skin with this moisture rich conditioning cream. Like an old fashioned cold cream, this vitamin-rich cream is excellent for softening areas of rough skin and dry patches. Aloe Moisture Cream is a favorite finishing cream for use after spa manicures and masking services.
Moisturize with confidence with this conditioning cream. It works to nourish skin cells, so skin becomes soft and smooth. It is excellent for moisturizing rough elbows and hands. It is the preferred high vitamin finishing cream after salon masking applications
Aloe blends in this cream to work to give you the "skin of your dreams."
Available in 4 oz 
Shop Now

Day & Night Emollients
This rich and thick emollient cream is used sparingly to supple vital humectants that protect skin from the environmental extremes of weather and pollution. Holds moisture all day, even on extreme dry skin patches.
Makeup will easily smooth over this moisturized skin. The natural emollients in this cream will seal in moisture to protect fragile or sensitive skin dry skin.
How to use: Just a tiny amount is warmed between the fingers and pressed into delicate skin.
Active Ingredients: Aloe Vera, Jojoba Esters, Soy, Apricot Kernel Oil, Vitamin A and Vitamin E
Available in 1 oz jars
Shop Now