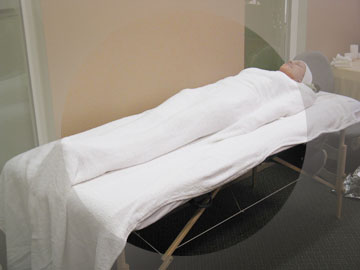 This gentle cocoon application combines the skin softening benefits of aloe vera, heat of warm application, and herbal detoxification.
Body Wrap Technicians have adopted a very effective cocoon method of application for therapeutic body treatments that produces the benefits above for clients with limited mobility, fibromyalgia, stiff joints, arthritis, chronic fatigue, and more. Symptoms of these conditions are often caused or worsened by toxin overload in the body.  This type of client will benefit from the detoxifying benefits of the Set-N-Me-Free Body Wrap that will ease the discomfort of these conditions along with the heat therapy that will help soften and release muscle tension.
Clients are lounged on a massage table or in a facial chair while the treatment is applied (as opposed to standing as in the mummy style wrap) and the cloth is gently "cocooned" around the body. This is a more comfortable treatment for clients who cannot or do not wish to stand during application.
No perspiration should occur during the treatment and no shower will be needed afterward.

Clients will be pleased with their smooth and soft skin after this treatment and will usually sign up for a series of 7 or 12 treatments that should be taken each 4-5 days.
Time: allow 65-75 minutes of treatment room time. Client lounge time is 45 minutes.
Soak cotton cocoon towels in prepared Body Wrap Solution Concentrate and heat to 150F (do not microwave)

Warm Body Wrap Solution Gel to a comfortable temperature for application (100F+/-) (do not microwave)

Layer onto a massage table or facial chair in the following order: cotton blanket, plastic sheeting, cotton sheet.
Supplies Required
Aloe Body Wash

This specially formulated cleanser is essential to ensure proper absorption of body wrap solution. Client should use at home daily or in spa shower prior to treatment for best product absorption and effectiveness.

Aloe & Herb Body Wrap Solution Concentrate

Mix 3 quarts water to 1 quart wrap solution in a 6 quart slow cooker and warm to 150F. (Save leftover solution in the refrigerator.) One gallon of Body Wrap Solution Concentrate Is enough for about 15 full-body treatments.

Aloe & Herb Body Wrap Solution GEL

Gel is applied directly to the body to ensure full coverage for the best results.

1 Natural Bristle Body Masking Brush

Wet the bristles to keep it from overly absorbing Body Wrap Solution Gel.

9 Cotton Cocoon Wrap Towels (22×30 inches or larger)

Soaked in the Set-N-Me-Free Body Wrap Solution Concentrate until saturated and hot.

Thermal Gloves

For twisting excess solution from cocoon towels.

Plastic Sheeting

Using half of a 9'x12′ painter's drop cloth is the perfect size. This item is easily purchased at your local hardware store.

1 Cotton Blanket

OR a heated blanket (set on low) to keep client warm during lounge time.

1 Cotton Sheet

Large enough to wrap around your client

2 Large Towels

For spa draping during procedure

Client Intake - Health History Cards

This form helps the body wrap technician to qualify each client for the correct body wrap treatment. It is also designed to track size loss and retail purchases.

Body Wrap Facts Brochures

Every client will want to share their results with friends and family. This easy to read brochure has space for salon contact information on the back.
Add the Cocoon Material to Any Pro Body Wrap Kit
Add to Cart