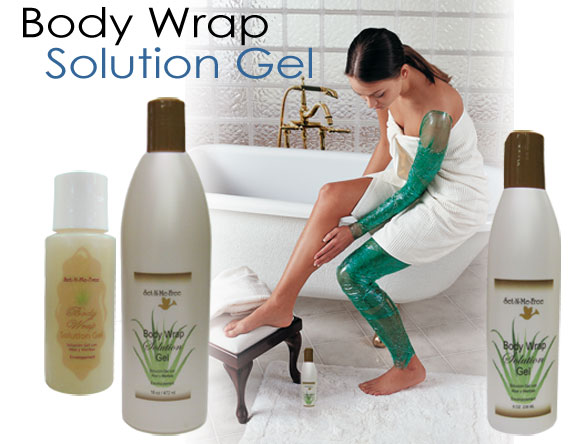 Body Wrapping just got easier with this amazing home/spa express wrap!
The Set-N-Me-Free body wrap program is a spa favorite for relaxation, skin softening and for leaving the body feeling smooth and firm. This treatment is second only to massage as the "most requested" spa services. The aloe vera in the solution will moisturize to leave a feeling of toned and tightened skin.
The client should bathe prior to having a body wrap treatment – using only Set-N-Me-Free Aloe Body Wash to deep clean the pores and remove dry surface skin. No bar soap or other cleansers and no lotions should be on the skin prior to having an Aloe & Herb Body Wrap or using the Aloe & Herb Body Wrap Solution Gel at home.
Clients will not need to shower after this luxurious spa service. Skin will feel clean and fresh. Continuing with healthy habits at home will enhance the results of this luxurious treatment.
The Same Active Botanical Ingredients as the Original Aloe & Herb Spa Body Wrap
Most salons use the same blend of Enzyme Active Aloe Vera and Herbs in liquid form to soak cotton linens that will be wrapped around the body in mummy style. This exclusive spa Mummy Wrap with linens is not sold for home use because it is designed for professional use only.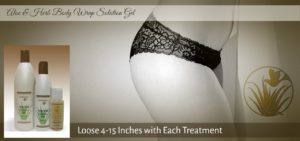 Some salons will use the Aloe & Herb Body Wrap Solution Gel to smooth over the body and then wrap over the very moist gel with a plastic film. This process produces similar results to the cotton linen wrap method. The purpose of the plastic film is to keep the gel moist, allowing continued absorption throughout the lounge time.
Create a Home Spa Treatment by Following these Steps: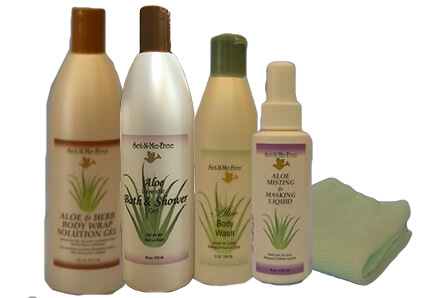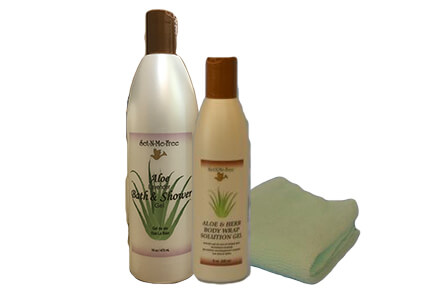 Body Wrap Kit for Home Care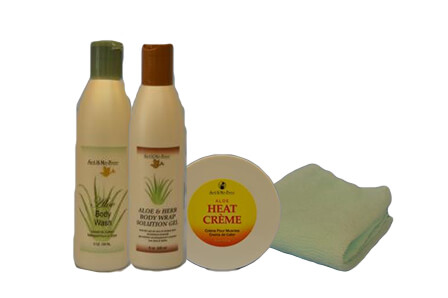 Cellulite Kit for Home Care
1. The Set-N-Me-Free Aloe & Herb Body Wrap System is designed to work best when combined with healthy eating and exercise habits.
2. We recommend drinking 3-4 liters of pure water daily to flush the lymphatic system. This practice will help your body flush the toxins released by the wrap itself and flush any new accumulation of toxins that contribute to bulky fat cells.
3. Full body treatments will always provide the best possible results. If you only wrap 20% of the body, you can only expect 20% of the total possible size loss and you will not see hydration or skin toning in areas that have not been wrapped.
4. Daily use of Aloe Body Wash and Scrub Cloth will produce the smoothest skin you have ever experienced.
5. Need to reduce the dimpling of cellulite? Apply a small amount of Aloe Heat Creme to the target areas daily. This warming cream will increase circulation and help move the toxins out of the body faster.
6. Do you want to increase the skin toning effect? Try adding the Aloe Protein Mask between body wraps to provide the nutrients needed to restore elasticity to the skin.
7. Looking to reduce the appearance of scars or stretch marks? Daily use of Aloe Body Wash will exfoliate. Application of Aloe Comfrey Gel will help return the skin color to normal. Application of Aloe Protein Mask will provide the nutrients needed to renew healthy skin.